It's time for another installment of Sam Explains Comic Books. Surely by now everyone has been required to see The Avengers, yes? Good. So no worries about spoilers then.
So let's explain Avengers: The Movie, with help from
Claire
,
51stcenturyfox
,
amand_r
,
neifile7
, and
spiderine
.
Claire:
I think all your fan fiction should start with Fassbender smoking. Chris Evans doesn't smoke apparently. BECAUSE HE IS SUCH A GOOD BOY.
Sam:
No, the glory of Fass smoking is its rarity! It can only be used for comic book discussions. In theory it's meant to indicate we are all standing outside a bar while I smoke and try to explain comic books to you.
Claire:
RIGHT LOL!!!! Sam screws his forehead up and inhales deeply before launching into the explaining!!
(YEAH THAT'S RIGHT THAT IMAGE IS CALLED SMOKI)
First, some background information on previous films.
THREESOMES SOLVE EVERYTHING:Sam:
Pepper is dear to my heart, except in Iron Man 2, where they made her temporarily stupid.
Claire:
Pepper clearly has Iron Man wrapped around her finger. If you want me to believe that Iron Man is in love with Captain America instead, poor Pepper will either have to die or be suddenly revealed as accommodating to open relationships! Either is fine with me.
Sam:
Usually, if Pepper and Tony's relationship is acknowledged, it's in the sense of "I loved Tony but I couldn't fucking deal with his bullshit". Usually they break up because Tony's a dick, but stay friends.
Claire:
Interesting fan concept, considering she worked for him 24/7 as his PA, knew everything about him, survived his bullshit & overcame it...
Sam:
That's what make me crazy when she tries to quit as CEO at the end of the second Iron Man movie -- she's been running the company AND his life for years. Surely only having to run the company and not make him sign things or do stuff is EASIER. Why u quittin'?
Foxy:
Is there Iron Man/Pepper/Captain America fic? I would read that. I am envisioning a "Pepper feels like Tony is blowing her off, and she spends a lot of time with Steve not knowing he has a humongo crush on her" thing. With emo misunderstandings! But a happy threesome ending. And also, superhero suit porn.
"Let's not let anything come between us again, Pepper," Tony said.
"Except Steve!" Pepper replied.
(Ed. Note:
Yes there is.
)
Claire:
I feel like Cap and Pepper would be so Mr and Mrs American Apple Pie. TOO CUTE
Mandr:
PEPPER MARRIED HAPPY HOGAN.
Spider:
PAIR THE SPARES.
Claire:
Pepper is real? I figured they made her up so Iron Man could have a girl in his movie.
Mandr:
lawl "real"
Claire:
Comic book characters are real. You taught me that, Amandr. I believe in you, Alex Ross Superman ! ! ! ! ! ! !
IRON MAN II DID HAVE A PLOT:
(Ed. note: This discussion refers to the scene in Iron Man II where Tony throws a party, gets drunk, and brawls in his Iron Man suit with his BFF Rhodey wearing another one, as a way of allowing Rhodey to "steal" a suit.)
Claire:
Tony really is a drunken ass but depending on how twee it's written it veers on a spectrum from charming to unbearable as I'm discovering from fandom!!!
Sam:
Well, in that specific scene, he probably is being a drunken ass, but he's overdoing it -- he basically admits as much later to Fury, that the whole party and the fight with Rhodey was his way of giving Rhodey the armor without making him suspicious. He's dying and he's trying to give away his possessions to people he wants to have them, but without clueing anyone in that's what he's doing.
Claire:
Tony had to make a scene and behave bad to hide what he was really doing. It's a trope for rich people in films "Make a scene at a society party" for "reasons".
Mandr:
Wait, Tony was dying? How did I miss this?
Sam:
In Iron Man II? He's being poisoned by the heavy metals used to run his arc reactor. He thinks there's no cure, so he starts preparing for death -- gives his company to Pepper, gives his suit to Rhodey, gives his art collection to the Boy Scouts. It's like the driving point of the film :D Because then he finds out HIS DAD invented an element that can run the arc reactor without poisoning him, and he has to re-create it.
Claire:
LOL AMANDR it was a huge plot point - the suit metals make him sick!!! HAHAHAHHHAHA
Mandr:
How did I miss this?
Claire:
it was the plot of the movie --- his chest thing was making him die! It was sad!
Tsk Amandr
Mandr:
i JUST REMEMBER BALH BLAH SAM ROCKWELL. BLAH BLAH LIGHTNING WHIPS AND SHIT.
A QUICK REFRESHER ON THOR:Claire:
What ever happened to Odin and Mrs Odin ... so do they still rule Viking Planet? Did Thor "Move OUt" to Earth or whatnot LOL
Sam:
There's some throwaway line in Avengers about Odin sending Thor to Earth to fetch Loki.
Claire:
Odin should do his own work since he's the one who created the situation by his terrible and bizarre parenting
I wonder what Odin's end game was with that one LOL ... what was he expecting to happen with the ice planet baby he stole for dubious reasons HAHAHAHHA
Comics. Sense not necessary.
Sam:
Well, look at it this way -- either he sends Thor to deal with Loki, or he goes himself and puts Thor on the throne. And while the point of Thor-the-film was to prove Thor is now worthy to rule, let's be honest, nobody wants Thor on the throne.
Claire:
But Odin is worse than Thor. Thor should give it a shot. Thor has become a lot calmer since Thor's movie, magically! Also LOL how Mrs Odin has no shot at this???
So Odin could go fix his Loki mess (Deus Ex Odina) and Mrs Odin could sit around making decisions about how sparkly the sky should be at night and so on.
Meanwhile their son Thor could ... backpack across Earth or whatever it is he appears to be doing on some kind of gap year...
Also every time Thor has to go clean up a Loki mess he doesn't really clean it up and Loki escapes .... so stop sending Thor to capture Loki and just have Hulk walk over and punch him into the ground like a cartoon.
That's how Hulk solve problems. Hulk solve problems quickly and effectively.
Foxy:
Thor could sit on my throne.
Throne = lap
Claire:
NO he would crush you. You could sit on THOR'S THRONE!
Foxy:
He knows how to balance so that he doesn't crush the ladies! Jane taught him not to break shit! (Coffee mugs, women, etc.)
Claire:
She taught him not to throw shit deliberately!!!! Breaking shit just happens on account of his huge man strength. Sexy.
PHIL COULSON IS STILL THE BEST:Claire:
Coulson gave us a running joke - the scene in Thor where Natalie Portman is complaining the MiBs took ALL HER SCIENCE away except this ONE NOTEBOOK
And she waves it above her head
And then Coulson is like: "And we'll take that too" and YOINKS it out of the air
IT WAS A CLASSIC "YOINK" MOMENT
WE DIED LAUGHING
THANK YOU THOR & NATALIE PORTMAN FOR THAT YOINK MOMENT!
I listed it as my favourite Yoink moment of the year, and it tied with the Yoink when Magneto yoinks the helmet off Kevin Bacon in X-Men.
At least my memory says that was Coulson and not one of the other MiBs.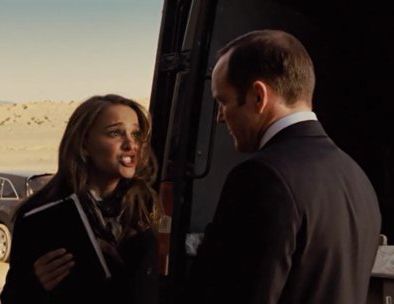 Sam:
It was some other guy but he was standing with her when the other guy did it and looked hilarious.
My favourite bit:
Thor: Give back to Jane what you took --
Jane: STOLE!
Coulson:
Borrowed.
PREVIEWS CAN BE DECEPTIVE:Sam:
Whedon's specifically said that the plot is essentially about how nobody likes anybody else.
Claire:
Didn't they say that exact same thing about Fantastic Four and how they were supposedly "edgy" because they argue but ultimately they are all BFFs?
I will owe you a coke if they don't have some sort of bonding moment at the end where they All Learn A Lesson About Finding One's Unique Strengths & Using Teamwork --- for examples of this see Captain America, Thor & X-Men "we're all helping by contributing our power/weapon" montages in each movie.
Sam:
Oh I'm sure they will at the end, but I'm prepared for a film that is 3/4 bitching at each other over stupid shit.
Claire:
Nooooooooooooooooo I don't want bitching, I want crime fighting
Sam:
Yeah, I'm not that nuts about an hour and a half of infighting either. But I'm still gonna see it, because I am weak.
Claire:
I already sat through a movie where Thor bitched & bitched about his lot. It was called THOR.
Cap didn't bitch. He mostly "mooned". He is more manly.
Magneto didn't bitch at all because he was on track to make tenure in the discipline of Nazi killing.
Mystique bitched!!!! Her brother cared too much about the Cuban Missile crisis and not enough about her. Self-involved teens.
Bucky is also not a bitcher. He's a lover!!! If there was a fandom for Bucky / Claire, it would be Clucky.
I'm just saying.
Foxy:
If there was a Foxy/Bucky fandom, it would be...well. A highly explicit portmanteau.
THE DEATH OF SAM'S COOL:Sam:
Iron Man's nickname is Shellhead. Cap's is Winghead.
Claire:
Those sound like comic book names. Wing-Head, Shell-Head ... the sort of thing that 10 year old boys used .. in the 50s! Gotta keep it clean. Comics Code and all.
Also um Thor's wings are much bigger than Cap's wings I am just saying
Sam:
I think that might be the point. He likes to remind Cap that he has tiny ridiculous wings on his head.
Claire:
YOUR WINGS ARE SMALL, roared Thor as he quaffed something delicious. MY WINGS ARE SUPERIOR IN BREADTH & IN MAGICAL QUALITY.
"Hey guys, I'm in the Avengers too," said Hawkeye from somewhere in the back where nobody gave a shit.
Anya:
This is why they cast Jeremy Renner, who looks rather splendid somewhere in the back.
Claire:
If Hawkeye had a magic arrow he could take down Thor and if he had armour piercing arrows he could kill Iron Man so I guess its just a matter of materials as to who would win! Is Cap's shield the Hardest Metal ever? I thought that was adamantium.
Sam:
Vibranium alloy. Vibranium isn't harder than Adamantium but it absorbs impact and disperses it, so it's like Adamantium in a way. I think now it has some alien metals in it too, 'cause the aliens cracked it but Tony fixed it and it's even stronger now.
God, I'm a dork.
(Ed note: That's not even correct. The fight with the Serpent in the Fear Itself arc destroyed it, and the metalsmiths of Asgard reassembled it with the enchanted metal Uru.
Now
I'm a dork.)
THE IRON MAN YOUR IRON MAN COULD SMELL LIKE:Sam:
COMIC BOOK COLOGNE.Claire:
LOL everyone gets a perfume but Hawkeye? Even Nick Fury?
Thor's perfume: "a deep dry masculine almost "God-like" musk." I am telling you now I do NOT want this sprayed on me!!
Sam:
Better than wearing Hulk cologne. Seriously, who wants to smell like Hulk.
Claire:
Even the Hulk doesn't like being the Hulk!!!
Sam:
Wolverine Cologne: It's for team joiners.
Spider:
But it smells like dead cigars and stale beer.
FRIDGE TIME!Claire:
At least Iron Man and Captain America had really genuine love stories - although Cap's is probably dead of the old age (tragedy!).
In X-Men the love interests are "cruelly used" if Jane Austen were describing what went down. You don't have to stretch to write them out because even the movie is like ...Yeaaaaaah... we're going in a different direction .. straight to gay.
Sam:
There's some allusion to Peggy in fics that makes me think in at least one version, Peggy's alive -- she's like 94 and doesn't recognise him, just to grind in the pain of not being in 1943 anymore.
Claire:
When I'm 94 I guarantee you I will still recognise Chris Evans.
Sam:
I can't even recognise him when he's not in Captain America gear. I keep seeing pictures of him in magazines and stuff and being like "Hey where have I heard that name..."
LIKE I DIDN'T SEE IT COMING:Claire:
Don't care for Joss Whedon's brand of angst frankly but whatever, you are not allowed to make super hero movies these days unless the characters are all tortured. That's what passes for drama.
Sam:
EXPLOSIONS AND MANPAIN.
Spider:
Don't forget the senseless death of the most beloved character!
Claire:
Actually this is fabulous, all the characters are owned by Marvel so he can't perma-kill them. It's the OCs he can kill.
Sam:
But Coulson is an OC, he was invented for the movieverse.
Claire:
Coulson is a real Marvel character though right?
Sam:
Only in the sense that Coulson is owned by Marvel for the movieverse. He is high on the "easily killable" scale.
Claire:
Oh I thought he was real ... Maybe I can't tell apart any of those SHIELD folks... They just show up and make noises and then the real heroes just do what they want.
To be fair, a death has to have some sort of emotional purpose and while Coulson is great do you think the audience is going to freak out because he dies??? I think it would be the same "yikes! oh well" that occurred when Oliver Platt was unexpectedly thrown to his death (for what reason???) in X-Men. We only noticed because we love Oliver Platt.
"Um Did Oliver Platt just die???"
"No... Not like that, there must be explanation.."
"Uh ... I think he's dead and splattered..."
And they never mentioned him again. HA HA HA HA
Sam:
That's one reason I imagine he won't survive -- he's disposable.
Claire:
Right and none of these people are necessary except Fury because he's the leader and he was in Marvel 1602. The rest of them are, whatever, who gives a shit. I'm expecting them to also stuff in cameos like, the new Spiderman, to help sell Spidey etc. Marvel is so crass.
The best cameo would be Patrick Stewart. Maybe they can conference call him in during the nonsense.
I don't know what is going to happen in this movie, but I strongly feel that it will include nonsense.
Sam:
"I strongly feel that it will include nonsense." I kind of want to put this on a shirt and wear it when I go to see the film.
Claire:
Joss Whedon + too many characters + Marvel's $$$ machine + mandate to tie into other franchises. I feel like it's a recipe for nonsense. If there's a death, Joss is going to "kill" somebody we know and care about. I don't think anybody is dying in the first movie. Doesn't make sense there's no time to care about then feel sad about. That's a second movie -tie into the third movie, sort of move.
Anybody who dies in the first movie has to be a mentor, like Cap's doctor dude. Or Gandalf. The logical candidate is Fury. Marvel wouldn't let that happen though unless it was a fake-out.
(AND THEN WE ALL SAW THE FILM AND...)
VANILLA CAN BE DELICIOUS:Mandr:
PLEASE TELL ME PEOPLE SHIP NATASHA/COULSON. I bet he's a tiger in bed. OH NO NO NO. NATASHA AND COULSON DISCOVER THAT AS CRAZY AS THEIR LIVES ARE, THEIR BIGGEST KINK IS VANILLA SEX.
Sam:
So tempted to write it.
"No cuffs. I'm still sore from last week's kidnapping."
"Well you can't cuff me, I instinctively pick them."
"Ropes?"
"PTSD. And costumes are definitely out."
"I don't do well with orgasm denial."
"Me either."
"You know, I've heard of this thing called the missionary position..."
I'm personally of the opinion that it would be hilarious if Coulson were on strong mood stabilizers. It would explain a lot.
Mandr:
"I don't know how you do this shit," Fury mumbled as he passed Coulson and ambled into the room.
"I 'take St. John's Wort every day," Coulson said, his smile pasted in place.
"St. John's Wort." Fury snorted. On the other side of the room, he watched Stark spike Steve's Pepsi with something. That wasn't going to end well. "How's that shit working out for you?"
"If you touch my ass one more time," Natasha growled at Clint as they entered the meeting room. "It is *not* my birthday."
Coulson glanced from the last of them back at Fury. His hands remained gently clasped in front of him. His smile never faltered. "I take St. John's Wort. I buy it at Costco."
Claire:
I didn't expect him to die but he should come back as a robot for sure. I'm sure Nick Fury will freeze his stem cells or something. Nick Fury: Machiavelli Lite. All the scheming. Half the effectiveness.
HULK LONG JUMP!Spider:
Sam, can the Hulk really jump that far? I mean on top of planes and shit? It's like he jumps the length of football fields!
Also, did Tony and Pepper hook up at the end of Iron Man 2? I thought that's, like, the unthinkable in Iron Man canon.
Sam:
Tony and Pepper have been on-again, off-again in the comics; the latest twist and the only one that's really relevant in terms of recent history is that they slept together when Tony was on the run after the Civil War. Tony doesn't remember it and isn't aware it happened. Pep's still dealing with that.
But yeah, in Iron Man II they kiss at the end so the romance wasn't unexpected. I was quite pleased it seemed like a semi-healthy relationship, because I was prepared for it to be...not.
Hulk, in comics canon, can jump a couple of miles at a time -- he does so in earlier films, too.
Spider:
Jump a couple of MILES AT A TIME? @_@
Sam:
Yeah. It's one of his more quirky but longstanding features -- it's been a pretty standard power of his right from the off. I think in the first Hulk film, where he was a terrible CGI cartoon, at one point he jumps across the Grand Canyon.
Foxy:
I think a Hulku tumblr would be hilarious.
DMV website
Make Banner MAD HULK SMASH IT
Rip purple shirt. SAD. :((((
Mandr:
hulk is super strong
and yet is defeated by
this bag of corn chips
Sam:
Corn chips everywhere
Hulk does not vacuum the floor
Has Banner for that
Mandr:
clint-ku:
yeah i have a sad
loki fucked up my brain good
oh hey look, corn chips
KILLIN' 'CCOUNTANTS:Claire:
The Best line delivery - I am biased towards Cap but I did think he got the best line award for "I got it! .... I understood that reference." Runner up:
Tony: "How does Fury see these screens?"
What a surprise that the most charming character was Bruce Banner. I think Mark Ruffalo going for "quirky professor" and not doing the werewolf angst that both Ed Norton & Eric Bana did really helped.
Though we are pretty sure Hulk murdered at least an entire accounting department tearing through that office floor to save them from the alien worm outside the building. Um.
Sam:
AAHAHAHAHAHAHAHHA OMG choked on laughter
Claire:
Don't you think he did?
I mean there was this alien worm outside, and people were scared ... and then suddenly Hulk comes SCREAMING THROUGH THE OFFICE destroying everything in his path. I think he killed them all.
Also. Every time he threw an alien into a building, I'm sure the body of the alien hurtling through the office window also murdered many, many Manhattanites LOL and he did that like 15 times.
Are you also mad that they didn't explain why he's suddenly lucid, non-friends-killing Hulk? We felt the movie treated us like we were too stupid to notice that.
EITHER he can't control himself ... or he can ... He clearly can .. well, he can control himself enough to not kill the Avengers. Civilians get smashed only if they are in the way of something he's throwing.
YOU SUNK MY HELICARRIER:Claire:
- The Sky Battleship ... maybe I have battleships on the brain as they were lovingly explained in the (AWESOME!) motion picture "Battleship" but I was annoyed that SHIELD lives on a battleship that floats in the air. In fact, the movie wasted 45 minutes showing what happens when the Sky Ship gets attacked ... everyone could die because it might crash to the ground!!!
Why does Hawkeye have an arrow that when you shoot it into a computer it turns the Sky Ship off causing its engines to stop spinning.
Sam:
I think the computer-crashing arrow was specially made for that mission.
Claire:
You shouldn't build your Sky Battleship (ridiculous) so that it can be "turned off" and plunge from the sky when something gets arrowed into it.
For instance, if Hawkeye broke into my house and shot an arrow into my laptop RIGHT NOW .. the worst thing he could turn off would be my fridge. My food would spoil, however I would not plunge to my death.
Sam:
I'm not denying that the Helicarrier is ridonkulous beyond measure. IJS, I don't think Clint had the Killing The Giant Air Battleship Arrows just lying around.
STILL BITTER ABOUT THE VILLAIN NOT BEING THE VILLAIN:Claire:
I barely care about Hawkeye and I LIKE Hawkeye. He really does always live in the rafters. Looking glum. Not wearing sleeves.
Sam:
Poor Hawkeye. I guess it's nice he got to be the villain for TWO THIRDS OF THE FILM....
Claire:
Half the dialogue in this film was people explaining why Loki won't win. This is why I needed an Extra Large coke zero due to the runtime of the movie.
Yes, it was already well established he is a loser in the motion picture "Thor" last year. Having him come back as a villain and do the exact same stuff he already did in "Thor" was really a waste of time. Whoever the alien who grinned at the end of the movie was ... he should have been the villain. Sorry Hidds still luv u though.
Nice with the "Bow to me!" time wasting nonsense but when General Zod did it, it was classier.
The last 45 minutes - "CGI slapping against other bits of CGI." We re-enacted it over dessert. CGI Alien slaps against building, slaps against an Avenger, then an Avenger slaps into a building or giant alien worm, which slaps into the ground, then TWO aliens slap into a building ... Oh man.
SPIDER MAN IS PUNKS:Claire:
I know that Movie Avengers and Movie X-Men and Movie Spiderman are produced by different companies with contracts to Marvel, but I think in the New York battle scene it would have been very funny if one of those NYPD cops had said to Cap:
"Goddamn X-Men!!! I don't have to take your stinking orders!!!"
LMAO OR
Spidey: "WOW that construction sounds loud this morning.."
MJ: "Totally ... oh look, you can see fighting outside our window. And ... some kind of pillar of light in the sky?"
Spidey: "I feel like I should .. go do .. journalism or something ..."
MJ: "Yeah, let's make coffee first though."
Spidey: "I can't find my pants, have you seen my pants? Are these my jeans or your jeans?"
MJ: "Hey the news is saying it was sorted out. The light is blinking on your phone..."
Spidey: "Got a text from Nick Fury earlier: 'Aliens attacking New York'"
MJ: "Is he saying you should help, or--"
Spidey: "I don't know! He's so cryptic! I hate him!"
MJ: "I guess it doesn't matter now."
Spidey: "There's another text from Charles Xavier: "I don't understand Fury's text. Does he want our help?'"
MJ: "I'm going back to bed!"
Spidey: "Me too because I can't find my pants."
Mandr:
That was actually a deleted scene from the movie, right there.
Claire:
Totally the Marvel lead-in to Amazing Spider-Man & X-Men 2.
There's always some way of reminding us to spend our next $14 on movies.
***
And that is all the explanation of the Avengers you will never need.